Stay tuned for the 2020 application that will go online in January, 2020.
We are thrilled that you are interested in the Intensive Program. This summer session is a radical way to live and work while at school. It is specifically designed to give the kind of focused immersive learning experience not normally available in academic settings. We seek students who have the strong motivation to work all day every day at their art, in addition to living in a cooperative setting where mutual acts of social responsibility and service to the community are expected.
See 2019 Faculty and Intensive Program Description below.
Faculty change each year! The 2020 Faculty will be announced in January 2020.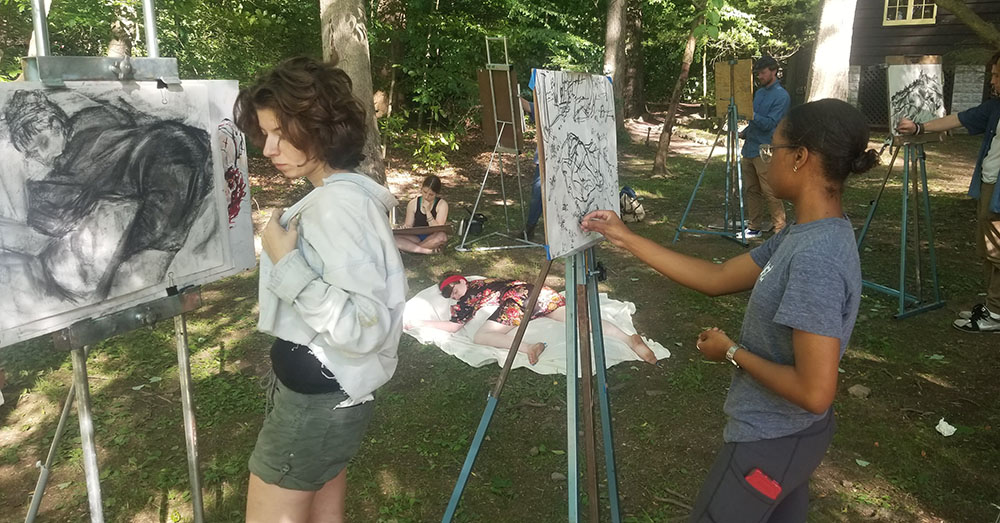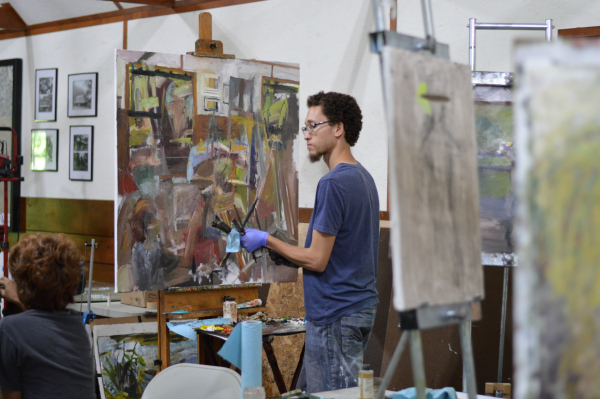 Each summer a new all-star lineup of guest faculty are invited to provide fresh voices to students and the community lecture series hosted by the Pennsylvania Chautauqua in the Hall of Philosophy.
2019 Faculty,Critics, and Lecturers are being posted here!
Core Painting and Drawing Faculty
Barbara Grossman (drawing)
Ken Kewley (painting)
Catherine Lepp (drawing)
Thaddeus Radell (drawing)
Scott Ramming (painting)
Kimberly Trowbridge (painting)
Critics and Lecturers
more may be announced
Support Faculty
Jay Noble
see a list of past faculty, critics and lecturers since 2013 here: http://www.mgsoa.org/about
In the unlikely event that a faculty, critic, lecturer, or workshop instructor is unable to participate in the program, we will not provide refunds. MGSoA will do its best to find a suitable replacement.
Special topics Workshops Instructors: These are optional and may not be available to all students. Students are permitted to audit workshops if space is available, and meet with visiting artists if time permits. Workshop descriptions will be posted in March.
Deserving returning students are eligible to apply for the Studio Seminar Section. Interested? Call Jay to learn more about whether it's a good fit (717)823-8367. On a case by case basis we will consider students with equivalent experience who can demonstrate they understand the rigors of MGSOA.
What to expect from the Intensive Program Summer Session.
Duration
A single sustained seven week session runs June 23rd to August 10th, 2019.
Ethos
The discipline working outside from direct perceptual observation guides the instruction. Students will learn about the outdoor environment, the nature of seeing and their mutual impact on the formation of a painting.

Students also complement this pursuit with work that explores the continuum between abstraction, representation, invention and the study of master works.
Students and faculty
We seek two types of students for the Intensive Program.

Students with a special obsession for painting outside on-site.

Students who see painting outside as a healthy component of their overall art making that may also include still life, figure, abstraction, sculpture, and other modes. For these students this summer program is a special opportunity to focus on connecting with nature.

Intensive Program faculty reflect this balance with artists who are interested in the working from nature as a dominant focus of their lifelong work, and those who sincerely see painting outside on-site as a vital formative experience or an important recurring component of their overall work.

Painting Class
Focused on working at locations such as the natural setting of Mount Gretna's neighborhoods and streets, forests and parks, lakes and streams, accessible regional land preserves, and other places in the surrounding area.

Meet your instructor(s) in the morning and head out to various on-site painting destinations in the area. With your box lunch in hand you may stay out and paint all day or return to work independently in the studio.

Most of the painting will be done outside or, in the case of rain, covered locations or the studio (a large welcoming Mount Gretna cottage porch is often an option).

Courses are team taught by a rotation of faculty in 2 or 3 week stays sometimes overlapping and/or back to back.

Plenty of individual guidance and critique.
Drawing Class
Drawing classes complement the landscape component of the program, and are held in the studio or outside in the landscape.

These classes focus heavily on the use of figure models and meet in the afternoon or evening two or three times per week.

Courses are team taught by a rotation of faculty in 2 or 3 week stays sometimes overlapping and/or back to back.
Housing
Students will be integrated into the community of Mount Gretna's neighborhoods while living in the area's iconic cottages.

Small group housing in shared cottages.

Shared household chores such as cleaning taking out the trash, dish washing, cooking, etc.

Single and multiple occupancy bedrooms (may change or rotate throughout the session).

Oversight by a Co-op/Housing leader

We need Co-op/Housing leaders! If you are over the age of 21 and interested in a tuition discount for this service to the school click the appropriate box on the application when you apply for the Intensive Program and follow the instructions on the Co-op/Housing Leader info page. These are first come first serve for qualified applicants so apply early.
Studio*
A shared independent work space, rainy day studio, figure drawing classroom and critique space.

This space is available if you need a break from the outdoors from time to time in order to focus on the still life, synthetic paintings, or the model as a complement to the landscape painting focus of the program. Faculty will be available to assist students who make independent use of this option.

A limited number of private studios are available to studio seminar students.

The program can be modified to accommodate the more independent needs of seminar level students in a way that is stylized after graduate school with rotating visits from critics, and participation in group critiques. Seminar students are expected to take on a leadership role in critiques with the core students and in other aspects of the program.
Lecture Series
Hosted weekly by The Pennsylvania Chautauqua in the historic Hall of Philosophy. Additional artist talk dinner nights happen regularly in more intimate settings.
Museum Trips
Art Museum and Gallery Day Trips to Metropolitan Areas.
Area
Mount Gretna is an enthusiastic and supportive community of artists and art lovers.

theatre, music, and cultural activities

restaurants, bars, and cafes

some of the nation's most prolific fresh food and farmers markets

a lake and beach, putt putt golf and roller skating

wooded setting with nearby hiking

day trip access to major metropolitan areas

2.5 hours from NY City, 1.5 hours from Philadelphia, 1.75 hours from Baltimore, 2.5 hours to DC.

nearby small cities with active urban centers of Harrisburg, Lancaster, Lebanon, and Reading.
Some of these area features are paid admission not provided by MGSoA. Web links to area entities are simply provided for the convenience of site visitors and do not imply endorsement.
Food
Students will need to be somewhat self sufficient in preparing their own breakfast and box lunches each day.

Cottage kitchens will be stocked with quick and easy breakfast food and box lunch options.

A variety of group dinner events such as pizza night, Chinese takeout night, BBQ night, build your own spring rolls night, pot luck artist talk dinner nights, etc.

Students will also learn something about cooking and the cooperative aspects of the prep, cleaning, and eating together.

No planned group meals on Saturday or Sunday and on special occasions such as bus trips, certain holidays, etc. There is usually plenty of food in the fridges for students to fend for themselves or eat out.
Applicants
Ages 18+ by the program start time.

Art Majors looking for a summer boost in learning.

Art Minors looking for an enviable period of focused study.

Recent graduates looking to boost their portfolio for graduate school.

Non-art majors with a vested independent interest in art.

Post Baccalaureate and Graduate students.

Anyone else with a personal commitment to accelerated learning as part of an immersive program structure.
Cost
Scholarship Discounts based on need and merit are available to all deserving students who gain admittance. We will do our best to accommodate your ability to pay. The school awards full and partial scholarships based on available funding so that we recommend that you go ahead and apply in order to see if your potential aid amount meets your needs. All scholarship awards require a work/study commitment. Please see the online application for details.

Full cost is $4250 and includes housing, most of your food, instruction, critics, a lecture series, bus trips and more.

A required $75 NY Trip hotel fee is due on or before arrival. This year we have planned a two day overnight artist studio and museum trip. If for some reason the overnight component of this trip gets cancelled we'll be able to return the hotel fee.

A $100 housing and studio caution deposit is also due on or before arrival.

If you live nearby and have your own food and accommodations we may offer a commuter discount for a limited number of students on a case by case basis. Certain meals are considered an important social function of the program and will not be discounted. The actual amount of this discount will be determined at the time of acceptance. Full participation in program activities and work/study assignments is still expected.
Competitive Entry
Connecting a broad mix of artist, students and faculty from across the country is important. To date MGSoA has attracted students from California, Texas, Arkansas, Indiana, Oklahoma, Pennsylvania, Ohio, New York, Maryland, Massachusetts, Washington DC, Virginia and North Carolina, and more. It's a great chance to connect with artists from diverse demographics and build lasting relationships.

We accept about 20 students in any given year depending on the number of beds available. Often we will squeeze a few extra students into the program if they are able to commute.
Special Scholarship and Admission Agreements
Special Nomination Agreements for scholarships and admission of students may exist or be in the planning stage with certain institutions. These agreements help ensure admission to the Intensive Program year to year as well as significant scholarship assistance. These agreements vary from institution to institution but generally follow this directive.

Students nominated by a home institution or agent thereof bypass the normal competitive applicant pool and are reserved a spot in the program.

Nominating Institutions or agents thereof are expected to provide reasonably substantial financial assistance to the student which Mount Gretna School of Art agrees to match.

Nominating agreements are only intended to fill up to about 1/3 of the spots in the Intensive Program so that there is still substantial opportunity for any other student to gain entry through the school's open application process.

MGSoA is eager to form lasting relationships with institutions that seek opportunities for their students. If you are a student, faculty or administrator interested in seeing your institution form a Nominating Agreement with MGSoA please give us a call at 717-823-8367.
What are the curriculum details?
MGSoA has a rigorous curriculum that is truly a training camp for painters interested in high performance learning.
This is a typical weekly schedule, please note that there are two museum trips, usually the 1st weekend and another later in the session.
Contact time in painting and drawing exceeds a full semester requirements for a typical college level course.

Students have access to independent studio time for an additional 16 hours or more per week. 24 hour studio access.

4 or more regular individual critiques from visiting artists.

6 public lectures in the Hall of Philosophy and 5 artist talk dinner nights.

Includes 1 student show where art exhibit business skills are learned.

Includes 2 art trips to major metropolitan areas for a total of 12 hours museum study. We're planning an artist studio visit tour again for this coming session.
General Program Type
The purpose of the Mount Gretna School of Art's Intensive Program is not to try and define the entirety of someones art education but to provide a temporary, immersive, and intensive education in a specialized discipline. Our aim is to provide students with a preexisting interest in our course topics a chance to complement their education with an extended period of singular focus and depth. We liken this to the effect that a semester of cultural immersion abroad has on the fluency of a foreign language major. Our program hopes to achieve this same effect with regards to the language of painting and drawing.
Course Credit
Mount Gretna School of Art is an independent organization currently unaffiliated with a credit-granting institution, however, we may be able to provide assistance in obtaining credits from a student's home institution on a case by case basis. Advanced planning is highly recommended to increase the likelihood of your coursework at MGSoA being applied to fulfill requirements in your major, minor, or General Education (possible internship credit through your work/study assignment, elective credit, full course credit, independent study). Please research your institution's credit requirements thoroughly before seeking credit approval. With signed approval from your home institution, you will receive an evaluation from us upon completion of coursework. We at MGSoA have assembled an "all-star" group of faculty from Colleges, Universities and Art Schools nationwide including independent visiting artists, lecturers and critics. We seek applications from students whose first goal is to benefit from the excellence of our program, and do not see course credit as a make or break factor in their participation in the program. That said we are happy to help students interested in this option as best we can.
Non-Discrimination Policy
Mount Gretna School of Art prohibits discrimination on the basis of race, color, ancestry, religion, national origin, disability, veteran status, sexual orientation, gender identity, sex, genetic information, or age in the administration of its educational policies, admission policies, financial aid, employment, or any other program or activity.
Part Time
In rare and exceptional cases students may be permitted to attend part time, for reasons such as severe economic inconvenience requiring a student to continue working a job, or academic schedules on the quarter system that do not align with program start times. These are permitted on a case by case basis at the sole discretion of Mount Gretna School of Art. Certain faculty, critics, lecturers, and other activities may not be available to part time students depending on the calendar.
*Currently our main studio space does have a wheel chair ramp, however these historic buildings have restrooms that are not fully wheel chair accessible. We will make every effort to provide reasonable accommodations to students with a disability requiring reasonable accommodation.